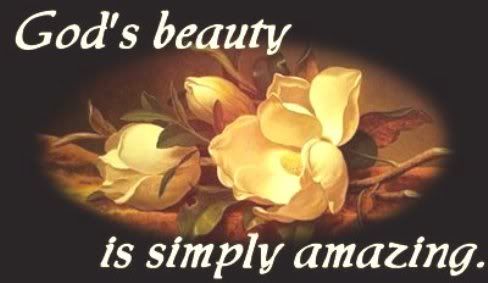 As gold comes from the northern mountains, so a terrible beauty streams from God. Job 37:22The beauty of God is seen in His Power and Might.
A terrible beauty, O God, streams from your sanctuary. It's Israel's strong God! He gives power and might to his people! O you, his people - bless God! Ps 68:35 -
Bravo, God, Bravo! Everyone join in the great shout: Encore! In awe before the beauty, in awe before the might. Ps 96:7
God's Beauty sets Him apart from all creation.
Royal splendor radiates from Him; a powerful beauty sets him apart. Ps 96:6
Each day is filled with the Beauty of the Lord
Just as each day brims with your beauty, my mouth brims with praise. Ps 71:8
Goodness and blessings flows from His Beauty.
Oh yes! God gives Goodness and Beauty; our land responds with Bounty and Blessing. Ps 85:12
His Beauty is clothed in love and loyalty to His people.
For God is sheer beauty, all-generous in love, loyal always and ever
Ps 100:5
We walk in the reflection of His great beauty day by day.
Your vibrant beauty has gotten inside us - you've been so good to us! We're walking on air! Ps 89:17
Praise God for His Beauty.
Great and terrible your beauty: let everyone praise you! Holy. Yes, holy. Ps 99:3
His Beauty poured on me.
Your beauty and love chase after me every day of my life. I'm back home in the house of God for the rest of my life. Ps 23:6
My Prayer
I'm asking God for one thing, only one thing: To live with him in his house my whole life long. I'll contemplate his beauty; I'll study at his feet. Ps 27:4
My Worship
I bow before the Beauty of God, on my knees – I worship! Ps 96:9 (Paraphrased)
My Thanks
I live my life in holy beauty to reflect His great glory. 1 Peter 3:2b (Paraphrased)
Please visit women taking a stand for more blessings